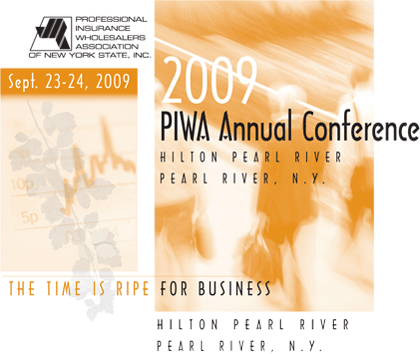 The Professional Insurance Wholesalers Association 2009 Annual Conference will be held Sept. 23-24 at the Hilton Pearl River, featuring diverse programs, networking events and more.
Hotel reservations
Contact the Pearl River Hilton directly at (845) 735-9000 to reserve your room at the $179 rate per night, single or double occupancy plus tax. Reservation deadline is April 12, 2008. Reservations after that date will be on a space available basis.
In accordance with Title III of the Americans with Disabilities Act, we invite all registrants to advise us of any disability and any requests for accommodation to that disability. Your request should be submitted as far as possible in advance of the program you wish to attend.
If you have any questions, contact PIWA • P.O. Box 997 • Glenmont, NY 12077-0997 at (800) 424-4244.
NEW!
Online conference registration